Kurt Kager
Metall-Glasobjekt: Kurt Kager
Das Metall-Glasobjekt in der Mitte des Kreisverkehrs im Hauptplatzbereich stammt von Kurt Kager.
Der Bärnbacher Künstler Kurt Kager trat in den 1960er Jahren in die Glasfabrik Bärnbach ein. Es folgte der traditionelle Werdegang vom "Einträger" zum Glasmacher. Nach einigen Jahren als Glasmacher wanderte er in die USA aus. Er lebte in New Jersey und Kalifornien. Seine Reise führte ihn auch in Indianer-Reservate in den USA und Mexiko. Totempfähle inspirierten ihn für das Lichtobjekt am Hauptplatz, welches aus mundgeblasenen und handgeformten Farbglaselementen gefertigt wurde. Nach seiner Rückkehr arbeitete Kager circa 1,5 Jahre an diesem Werk. Auf Kristallglas mit einer Temperatur von 800 bis 900 Grad wurde dabei immer wieder Farbpulver aufgetragen. Das Stahlgerüst lieferte die Firma Pfeifer aus Ligist, die Elektroinstallationen stammen von Elektro Gressenberger.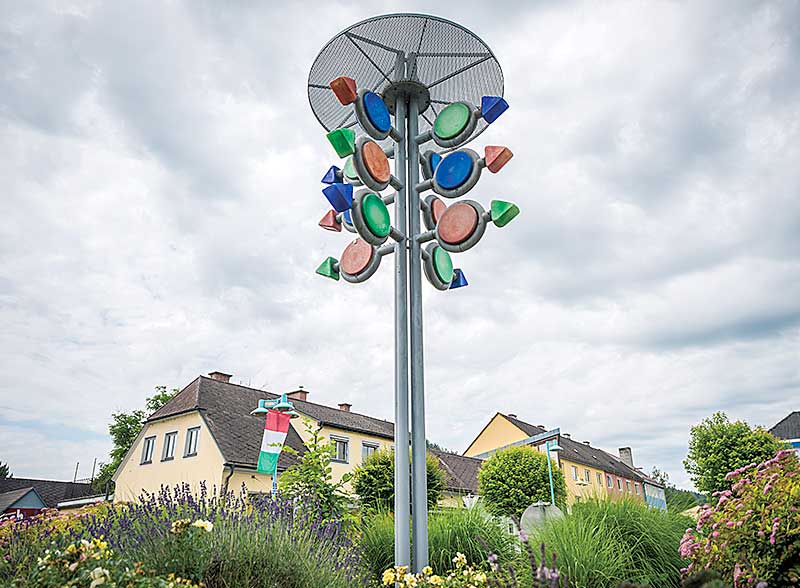 Foto: Jana Scherr
Metal and glass object - Kurt Kager
The metal and glass object at the centre of the roundabout in the main square area is by Kurt Kager.
Bärnbach artist Kurt Kager joined Bärnbach glass factory in the 1960s, where he followed the traditional career path from 'carrier boy' to glassmaker. After several years as a glassmaker, he emigrated to the USA, where he lived in New Jersey and California. His travels also took him to Native American reservations in the USA and Mexico. Totem poles inspired him to create the light object in the main square, which was made from hand-blown and hand-moulded stained glass elements. After returning to Austria, Kager spent around one and a half years creating this work. Pigment powder was repeatedly applied to crystal glass at a temperature of 800 to 900°C. The steel frame was supplied by the Ligist-based company Pfeifer, while the electrical installations are from Elektro Gressenberger.