Günter Kainz
Kultstein: Günter Kainz
In der Nähe des Mosesbrunnens befindet sich ein von Günter Kainz 1980 aus St. Margarethener Sandstein in Menhirform geschaffener "Kultstein, Urstein oder Kulturstein".
Günter Kainz sagt zu der im Römersteinbruch St. Margarethen entstandenen Arbeit: "Mit diesem Stein soll auf die Kulturtradition der näheren Umgebung hingewiesen werden. Dieser Kultstein, Urstein oder Kulturstein ist auf den heiligen Berg gerichtet, wo sich eine urgeschichtliche Siedlung befand. Solche und ähnliche Steine haben schon damals den menschlichen Gestaltungswillen ausgedrückt und örtliche und geistige Orientierung geboten (Menhire, Obelisken, Meilensteine)."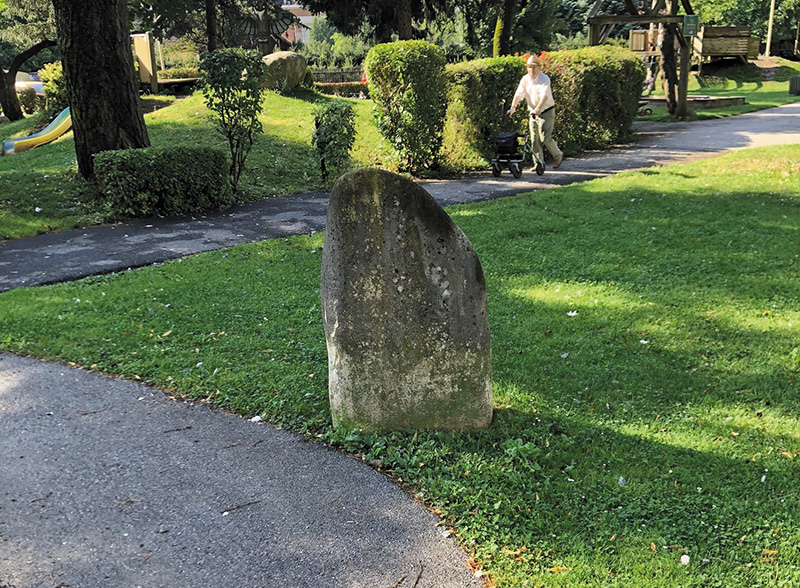 Cult stone - Günter Kainz
Near the Fountain of Moses is a 'cult stone, primal stone or civilization stone' created by Günter Kainz in 1980. Made from St Margarethen sandstone, it is in the form of a menhir or standing stone.
Günter Kainz said of the work, which was produced in the St Margarethen Roman quarry: "This stone is intended to draw attention to the cultural tradition of the surrounding area. This cult stone, primal stone or civilization stone is directed towards the Holy Mountain, where there was a prehistoric settlement. Even back then, these and similar stones (menhirs, obelisks, milestones) expressed the human desire to create and provided geographical and spiritual guidance."